Credit: Mike Coppola/Getty Images
Why musician Tems' extravagant Oscars look went viral
At the 95th Annual Academy Awards this Sunday, A-listers were largely celebrated for their daring fashion choices. Across the red carpet and after parties, there were barely-there bandeau tops, salmon satin dinner jackets, a surprising proliferation of capes and at least one bow-tie with googly eyes on parade. It was 
the Oscars,
 after all.
A nominee this year in the best original song category, the Nigerian musician and producer Temilade Openiyi, also known as Tems, debuted one of the night's more extravagant looks: a voluminous gown from the LA-based label Lever Couture. The dress featured a sculptural flourish of pleated and boned fabric strips that curved up through the bodice and around the head, seemingly frozen in space, and a skirt so full that it spilled over into the surrounding seats.
The bridal-style design was widely labeled as ethereal and angelic; it ranked highly on many social media users' best-dressed lists, But others, however, took some issue with its scale.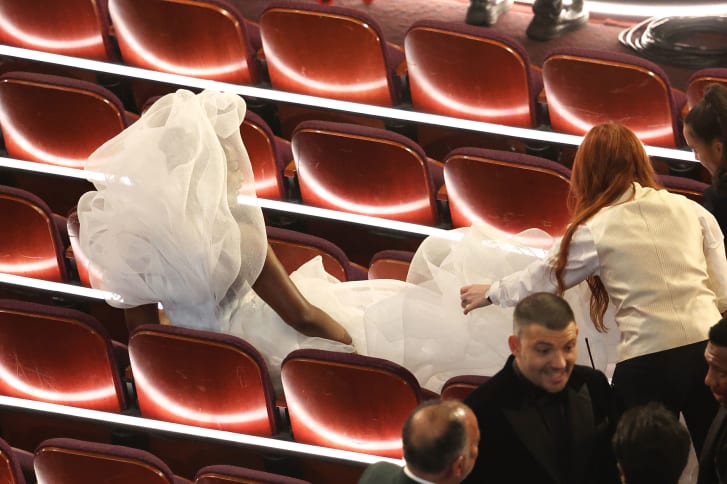 With a tweet now liked tens of thousands of times over, the writer Jarrett Bellini labeled the look a view-obstructing "
stratus cloud
," empathizing with whoever was assigned the seat directly behind it.
"Tems got that one lady fighting for her life," wrote another Twitter user along with a 
video clip
 of a woman, seemingly sitting in that very spot, craning her neck to look around and catch a glimpse of the stage. (None of those sat in Tems' orbit appear to have commented publicly on the fashion moment or its impact, though.)
In a digital landscape that increasingly rewards statement fashion and values quick viral moments, outlandish occasion wear is becoming more commonplace. Just last week, during the Fall-Winter 2023 fashion shows in Paris, one guest made headlines after sitting front row in pajamas, a face mask and full set of bedding — blocking the view of at least three people.
But even before social media made stunting on the red carpet such a requirement, ensembles engineered for a show-stopping moment have run the risk of cramping their neighbors' style, figuratively and literally. At the 1986 Oscars, for example, Cher wore an ostentatious and playful
 feathered headpiece
. And Lady Gaga — long-renowned for her theatrical costumes — has regularly emphasized the "larger" in larger-than-life looks. In 2009, at the Grammy Awards, Gaga wore a star-studded outfit that included a particularly sizable geometric headpiece that jutted out into space; a year later, at the Brit Awards, she wore a tiered Francesco Scognamiglio wig reportedly reaching half a meter in height. Recounting your experience in a seat behind any of these ensembles, you'd be able to say you sat near a diva but not much else.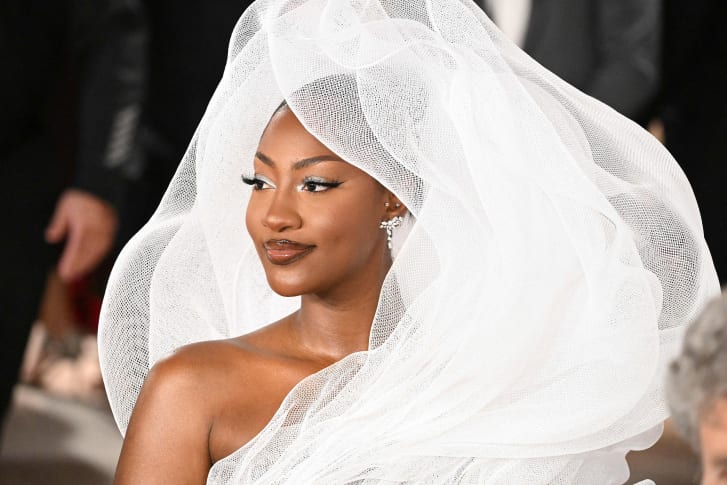 While the tone of the debate online has been largely jovial, some commentators have suggested that some critiques of the musician may have been laced with racial bias — too focused on the space her gown took up, versus the space it lived in. Kelechi Okafor, the Black British author and presenter, argued the criticism levied at Tems
 felt "loaded"
 and coming from "a certain demographic." Others responded that it should spur her on to find an even bigger look for her next awards show.
Tems, meanwhile, is yet to address the conversation herself — hopefully because she's made the most of her Oscars night even without a win to celebrate. And besides, cocooned as she was inside her dress, it's very possible the controversy has missed her entirely.