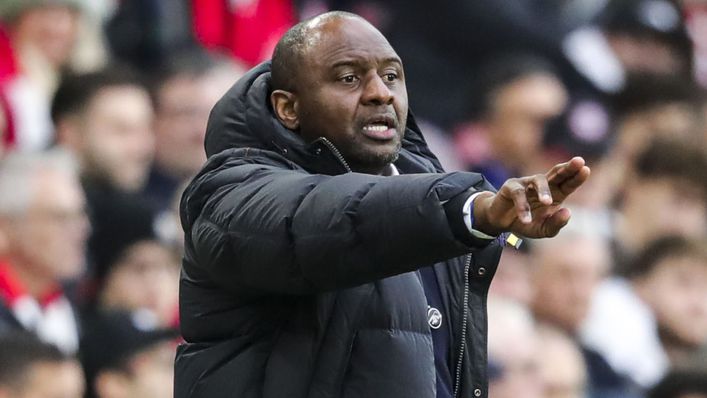 Crystal Palace have sacked boss Patrick Vieira after a miserable run of results.
Three members of the Frenchman's coaching staff, Osian Roberts, Kristian Wilson and Said Aigou, have also left their roles at Selhurst Park.
The Eagles have not won in the Premier League since a 2-1 success at Bournemouth on December 31.
And chairman Steve Parish said: "It is with enormous regret that this difficult decision has been made.
"Ultimately, results in recent months have placed us in a precarious league position and we felt a change is necessary to give us the best chance of retaining Premier League status.
"That said, Patrick's impact since joining us in the summer of 2021 has been significant and he is held in the highest regard by myself and all of his colleagues.
"He led the team to a Wembley FA Cup semi-final and respectable 12th-placed finish last season playing some exciting football, which was a challenging and crucial campaign for the club given the changes we made to the squad prior to his arrival.
"Patrick has given his all to the club and we all thank him and his team for their service. We also wish Patrick, Osian, Kristian and Said the very best for their futures."
Palace have confirmed the process to find Vieira's successor is under way and that goalkeeping coach Dean Kiely will remain at the club.
Vieira's men slipped to a 1-0 defeat at rivals Brighton on Wendesday night as their run without a goal stretched to four games.
And Vieira admitted he was worried by the fact his struggling side, who he leaves just three points above the drop zone in 12th place, had not found the net since a 1-1 draw at Brentford on February 18.
The World Cup winner, 46, said: "I'm concerned about scoring goals. When I look at the team performance, work ethic, our organisation and how the players execute our plan, I was pleased with that.
"The worry I have is that when you create those opportunities but don't take them.
"We have to score those goals. The players, especially those front players, have to change their mindset.
"I'm not going to stop putting the pressure on that until we get we want."
The South Londoners head to league leaders Arsenal on Sunday as they attempt to salvage their season without Vieira at the helm.
This is a breaking news story and will be updated as more details become available. Please keep refreshing the page.